A few words about us
Global experts on weather risk management
MSI GuaranteedWeather, LLC (MSI GW) is a wholly owned subsidiary of Mitsui Sumitomo Insurance Co., Ltd. MSI GW is a global weather risk management company that manages a dynamic portfolio of diverse risks throughout the world. The company offers weather based risk management products that mitigate the adverse effects of weather on business revenues and expenses. Businesses active in the energy, agriculture, construction, entertainment, food/beverage, and transportation industries as well as any other organization whose bottom line results can be significantly affected by weather conditions are active users of weather risk management solutions.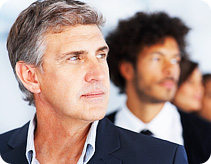 The evolution of a weather risk management company
MSI GW's weather risk management team began in the industry during 1999 as one of the first market participants and quickly established itself as a leader in the industry. During the early years, MSI GW's staff was part of Aquila, Inc., a Fortune 100 energy merchant based in Kansas City, Missouri.
In 2003, as part of a major asset sell-off, Aquila sold the MSI GW business to Ramsey Financial, a Midwestern-based asset management firm. Mitsui Sumitomo Insurance Co., Ltd. (MSI) and Hannover Ruckversicherung AG (Hannover Re), both long time capital partners in the business with Aquila, continued their origination and capital support relationships following this sale. Subsequently, in 2007, MSI acquired the business and preserved the capital support of Hannover Re thus creating MSI GW as it is known today. During these changes in ownership, the core MSI GW team has remained intact and continues to operate the business today—the team's collective experience is unmatched in the industry.
To learn more about our partners, click their logos below.

We are a member of the Weather Risk Management Association (WRMA).