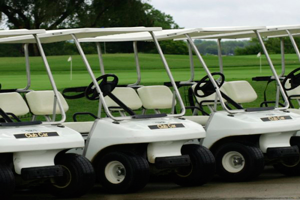 Weather Solutions
Getting Started Is Easy
Call one of our weather professionals at 913.253.1200 and let us generate a quote for a weather contract that addresses your own unique concerns.
You no longer have to cringe at each undesireable forecast! A call to MSI GuaranteedWeather could be your first step towards weather protection.
Contact us Today!
Because Golf is an Outdoor Sport
Nothing Dampens the Golf Business like Poor Weather
Golf and weather go hand in hand. More often than not, weather is the deciding factor that determines if a person plays a round of golf; it also influences the purchase of food and beverages while at the course. In many cases, early-season weather tends to dictate the golf activity for the remainder of the year. The bottom line is that bad weather equals bad business for golf courses.
Golf courses utilize a variety of techniques to minimize the possibility of Mother Nature wreaking havoc on profits, but there is no guarantee on when "she" will strike. A course may attempt to lower its weather risk by purchasing weather forecast services, but the accuracy of forecasts can be marginal and the financial impacts of poor weather, even if known ahead of time, can still be substantial. Even an accurate forecast for rain cannot reimburse lost profits. A weather protection contract with MSI GuaranteedWeather may be the solution you need.
You Choose the Type of Weather Protection You Need
We can provide protection that addresses several types of weather perils including, but not limited to:
- Excessive total rainfall
- Days with excessive rainfall
- Wind
- Days that are too cold
- Combinations of rain and temperature
- Days that are too hot
We can also offer a variety of contract periods, from a single hour to as much as an entire year, conforming to the period of your greatest financial concerns. This variety of choices can be used to address:
- Your total golf season
- Your busiest period of the golf season
- Weekends and holidays only
- League nights
- Tournaments
- Special events
Let Us Help You Put the Plan into Motion
The key points to consider are: 1. What type or types of weather affect your golf business 2. What is the relationship linking that weather and the revenue stream and/or expenses of your golf course. Once you understand the magnitude of the financial influence of weather on your course, you may be surprised. Information is, however, of little value unless acted upon.
Getting Started is Easy
A call to MSI GuaranteedWeather could be your first step towards protecting your revenues.
Contact us Today!